Welcome To
Historic101.com
The New Home of Don Wilson's
Highway 101 Project
This project is devoted to the preservation of the history, and memory of the original route of US Highway 101 in the area from San Jose to Santa Barbara, California.
One of the first highways designated by the BPR (Bureau of Public Roads) in 1925, U.S. 101 stretches from San Diego, Ca., north up to the Canadian border. The purpose of this project is to locate the original routing of 101 in relation to the current road system, and to photograph and document, wherever possible, the original concrete sections of the old route, and existing structures that were originally businesses that were primarily intended to serve motorists on the 101. These businesses would include gas, and service stations, motels, certain types of restaurants, etc. In many cases, the businesses have changed over the years that use these buildings. Motels become apartment buildings, gas stations turn into muffler shops, etc., and efforts will be made to determine the name and history of the original businsses whenever possible.
The project will be divided into a number of sections that span the 101 route from Santa Barbara north to San Jose, Ca. The main page of each section will include a map with numbered location designations that will correlate to a table of seperate location links. These will link to the location pages where the actual full size photographs and descriptions will be displayed. In addition, each section page will include a southbound and northbound detailed road guide for following the original 101 route by automobile.
I started this project officially in September of 2003, and it will take several years to fully complete. Needless to say, the website will be a continuous work in progress, and I will update it regularly as the sections are completed, and research details are gathered.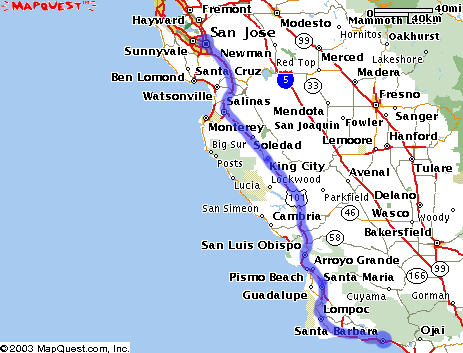 Completed Sections
( Updated 1/29/2011 )
Click Here to go to the "News &Updates" Page
Planned Future Sections:
Montecito, Santa Barbara, Goleta, Gaviota, Nojoqui Creek, Buelton, Zaca Creek, Los Alamos, Harris Canyon, Orcutt, Santa Maria, Soledad, Salinas, Prunedale, San Juan Bautista, Betabel, Gilroy, Morgan Hill, San Martin, Coyote, San Jose, Santa Clara
Related Sites
Comments, suggestions, and feedback are welcome
E-mail me at: don@Historic101.com
News & Updates | Links | Home | DW360.com