Arroyo Grande Section
Arroyo Grande is a town that is rich in history dating back to the mid-1800's, with a wide range of historical landmarks ranging from an incredible unique swinging bridge, to some of the best preserved original Victorian homes in the county. In it's long and colorful history, it was a stop for the old narrow-guage Pacific Coast Railway, home for one of the largest feed mills in the state, and even the scene of a tragic mass hanging in 1886. A good place to visit for historical information of Arroyo Grande is the South SLO County Historical Society wesbite.
The Arroyo Grande locations are numbered from south to north starting at the intersection with the current 101 freeway and the southbound onramp of Traffic Way. From 1909 when it was Route 2, through it's designation as US-101 in 1925, and up until 1932, the traffic was routed north up Traffic Wy., but instead of curving to the east, continued up what is now Bridge St., then made a hard left turn on to Branch Street, crossed over the current freeway, and continued north on what is today, El Camino Real. In 1932 another bridge was built over Arroyo Grande creek, and the curved section of Traffic Way was installed to ease the traffic going through town, and eliminate the hard turn at Branch St.. It stayed with this route until 1959, when the current freeway bypassed the town of Arroyo Grande.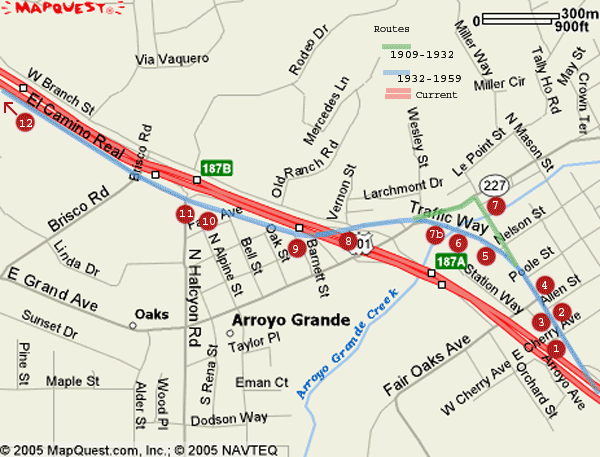 | | | |
| --- | --- | --- |
| Location # | Thumbnail | Description |
| | | |
| | | |
| | | |
| | | |
| | | |
| | | |
| | | |
| | | |
| | | |
| | | |
| | | |
| | | |
| | | |
Comments, suggestions, and feedback are welcome
E-mail me at: don@Historic101.com
News & Updates | Links | Home | DW360.com
Copyright ©2003 Historic101.com® all rights reserved